28 Tips for Buying Your First Rental Property from the Pros
Multi-family Real Estate Investments in Houston
1. Use Leverage to Buy the Property
Potential real estate investors should make sure to understand the mortgage market. If you get the right mortgage, it could help keep your costs low and reduce uncertainty about the property's cash flow. Using the leverage of a mortgage will free up some of your cash so you can save it for repairs or a future investment. However, a mortgage can be a double edged sword since there will be financing costs associated with it, so it's always best to consult with a professional. David Reiss, Professor of Law, Brooklyn Law School
2. Be Aware of Short Term Rental Restrictions
With the increase in short term rental companies such as Airbnb and VRBO, many cities have put into place short term rental restrictions. Your condo association or HOA may have their own restrictions too, and may not allow short term rentals under 30 days. Be aware of any laws and read your HOA agreement before you buy a property to ensure it can be used as a short term rental. Roh Habibi, Founder & Principal, The Habibi Group
3.Screen Your Tenants
Make sure to screen your tenant(s) with a background check, credit score check, and landlord tenant records. If they have poor credit or have been in landlord tenant court, rethink the person as a qualified tenant. This can save you time and stress later on down the road. Larry Friedman, Co-Founder & Principal, SDF Capital
4. Know Your Inherited Tenants
If the property is occupied when you purchase it, make sure there are trustworthy tenants living there. Ask the previous property owner for their background checks, credit checks and rental applications as well as their rental payment history. Ryan Coon, Founder & CEO, Avail
5. Invest in Single-Family Homes First
Invest in single-family homes first since it's the simplest way to get started as a new real estate investor. The upkeep is easier than multi-family or commercial properties. With only a single tenant, there doesn't tend to be as much wear and tear on the property, and when something breaks, you'll only need to fix one thing. Kathy Fettke, CEO, Real Wealth Network
6. Always Do the Math
Let the numbers speak for themselves. Inexperienced home buyers often start overanalyzing and overcomplicating the situation. It is unnecessary to do that. Just do the math. If you rent the property out for "X" per month, will you at least break even? If yes, then the home is a good deal. If not, move on. If you find yourself stuck because you're scared of losing money, just do the math. Jesse Harrison, CEO & Investor, Employee Justice Legal Team
7. Focus on Your Return on Investment
Invest in an area that will get a high return on investment. A cap rate of 7% or greater is ideal. You can find some amazing deals in locations that are transitioning or in gentrified areas. In order to obtain the highest ROI, you will need to know the area and what houses are selling for in the neighborhood. Iris Felder, Luxury Sales & Rental Expert, The Capone For Your Home Team
8. Work with a Finance Professional
Always align yourself with professionals that understand leverage and opportunity cost in the financing world. True professionals will be able to assist you in understanding the financing side; what the cost benefits are and what the opportunity cost may be by using all cash. They will also be able to provide you with clarity on what the actual revolving cost for the asset would be and what your true margins are. Freddy Baez, Producing Sales Manager, Hamilton Group Funding
9. Have a Written Lease in Place
Definitely have a very clear lease in place with all details written out so there's no confusion about the tenant's expectations. The lease should include when the payments are due, what the lease termination fees are, and if pets are allowed. The lease should also include what cleaning the tenant is required to do and if the heat should be left at a certain temperature during the winter. Jessica Dolan, Home Organizer/Stager, Room to Breathe
10. Talk to the Neighbors
Knock on the neighbors' doors and talk to them. Explain that you're considering buying the property, and would like to know if they've had any difficulties with the tenants or the owner. While you're there drive around the neighborhood and check out the property during the day, the weekend and in the evening to see what the neighborhood is like. Don Tepper, Investor & Realtor, Solutions 3D
11. Work with a Property Management Company
Think realistically about your time. Do you have the time or desire to answer calls at 2:00 a.m. for a furnace that stopped working? If the answer is no, then consider hiring a property manager. Like a Realtor, you'll want to interview different companies to determine if their services and fees are worth the investment of not having to do background checks, take maintenance calls, and interview tenants yourself. Katie Messenger, Realtor, Keller Williams
12. Purchase a Property with Outdoor Space
A huge percentage of prospective renters want to enjoy a cozy area where they can invite friends over or spend time on their own relaxing. Generally, most tenants aren't picky about the type of outdoor area, but want it to be private, usable and an area where they can put their personal touches on it with plants, furniture and decorative lighting. Tom Davies, Co-Founder, Accelerate Homes
13. Do a Pro Forma Analysis
Do a "pro forma" analysis on the property you're looking to buy. Look at similar properties in the same area, how the rents have changed in the past 10 years, and how they are projected to change in the next 10 years. Once you have the projected rent growth and estimated cost on operations and maintenance, you will have a better understanding of how much net income the property would generate, and how much you can make if you were to sell it. Shane Lee, Data Analyst, RealtyHop
14. Invest in a Vacation Rental Property
Evaluate a potential vacation rental property and look at comparable rental rates on sites like HomeAway and VRBO. In general, real estate will increase in value over time, but certain markets will experience greater appreciation. Evaluate how the market has performed historically and identify areas of growth that can lead to greater returns. Additionally, ensure that the zoning laws and boundaries in the area allow you to rent out your home to guests. Rob Stephens, General Manager, Avalara MyLodgeTax
15. Buy a Property Near Apartment Buildings
Buy in an area where there are a lot of apartment buildings. There's a proven demand for rental properties in areas with apartment buildings since renters are always looking for a place to rent that is a move-up from a typical apartment. You will be able to meet that demand and rent out your property without spending as much in advertising costs. Jeff Rohde, Founder, J Scott Digital
16. Balance Your Risk
While real estate values can fluctuate, people still need a place to live when the economy experiences a downturn, which provides investors with a steady income from rental properties. This is why savvy investors understand the unique value of choosing the right passive rental property to balance out your risk. Always look for areas that will have high rental demand, even during downturns. Stacey Corso, Senior Communications Manager, HomeUnion
17. Look for Properties Nationwide
Consider buying properties in other parts of the country. You may be able to find a property that is much more affordable and provides a much better return on investment. If you go this route, you will want to find a great Realtor and property manager in that market. Nancy Brook, Broker & Investor, Billings Best Real Estate
18. Know the Rent Control Regulations
Be familiar with the specific rent guidelines in the municipality where you are purchasing. The guidelines explain the process for registering the amount of legal rent and how to determine the annual rent increase you can pass on to the tenant. In certain situations, you can apply for additional rental increases such as vacancy decontrol or a one time capital improvement allowance. Knowing up front how much you can charge for rent helps you determine your investment. Lisa Krause, Real Estate Agent, Keller Williams
19. Get Advice From Other Landlords
Finding and keeping good tenants is an art all its own. Join a local landlord association or ask someone who has been a landlord for a while and get advice on what to do and what to avoid. This type of information will help you avoid pitfalls that could ruin your first time. Happy renting starts with being well informed. Corey Vandenberg, Mortgage Broker, Platinum Home Mortgage
20. Buy What You Know
Invest in a rental property in an area and niche in which you are familiar. Draw from your previous life experiences to gain a competitive advantage. For example, if you're retired military, then buy a rental property near a local military base for military transfers. If you're a college alumnus, then buy a student rental near your university's campus. If you're a nurse, then buy a rental property for short-term nurses near your hospital. Jeff Miller, Co-founder, AE Home Group
21. Invest Enough to be Cash Flow Positive
First time rental property buyers should only buy a property that cash flows. The best way to limit your risk and increase your odds of success is to make sure you are putting enough money down to be cash flow positive. There will be unexpected expenses so leave a margin for error. It also enables you to weather tough economic times. If the property cash flows, the fluctuations of the market are less relevant, and you can hold it for the long term. Richard Haynes, Broker/Owner, Manhattan Pacific Realty, Inc.
22. Have Property Inspections Performed
Have a professional perform a radon gas check if you are buying in a part of the country that traditionally might have radon coming up from the foundation. You should also have a sonar scan of the ground outside done if it is an old house and might have an unknown oil tank buried. You don't want to buy an instant liability if one exists and it is leaking. Dean Myerow, Bond Professional, Las Olas Wealth Management
23. Buy a Rent Ready Property
Try to find something that is more or less rent ready. Getting into the investing business doesn't have to be complicated, but it can be if you buy something that is a total rehab. Unless you have experience renovating houses, find something that is turnkey and can cash flow out the gate. Otherwise, you could get way behind the 8-ball when it comes to renting the property. Never forget the purpose here is to get the thing to produce income. Seth Lejeune, Realtor, Ask Seth Anything
24. Choose a Location Near Amenities
Pick a location close to public transit and amenities. Rental properties near Universities are ideal locations as most students will rent for the 4 years they are in University, and their parents will usually provide personal guarantees on the rent. Alexandra Axsen, Owner/Managing Broker, Lake Okanagan Realty Ltd.
25. Choose a Property that is Ideal for your Target Renter
Buy a place and make improvements that cater to the typical renter in that area. You can get the most value by targeting the correct renter in your area such as students, young professionals, families, retirees, or vacationers. If you buy a house that would be ideal for families in an area that is predominantly rented by students or young professionals, there is a good chance you are not maximizing value. Mark Painter, Founder & President, EverGuide Financial Group
26. Buy a Multifamily Property You Can Live in
For investors willing to live in their multifamily investment property, an FHA mortgage provides the best combination of interest rate and down payment size. For 2-4 unit properties, FHA mortgage rates are roughly one percentage point lower than a comparable conventional rate, and the required down payment for FHA is just 3.5 percent as compared to twenty-five percent or more. Dan Green, Founder, Growella
27. Pay Attention to Economic Cycles
When planning for your investment strategy, pay attention to economic cycles. The recession stage is the best time to buy, but can also be the scariest, since typically, inflation and unemployment are high and demand for rentals decreases. With all of those risk factors considered, this is also when the property will probably be the cheapest. When the economy enters into the recovery phase, vacancies decrease and rental rates start to increase. The peak phase includes the expansion and contraction stages. Key indicators of the contraction stage include an increase in new projects, rising inflation, and increasing interest rates. Some markets will see increased vacancy rates and a leveling off of prices. Understanding these indicators will help you know how to take advantage of market timing to make the wisest investments. Steve Pollack, CEO and Co-Founder, Anchor Loans
28. Factor in Absorption Rate
Absorption rate, a measure of how long it will take for all the available homes or rentals in a given area to sell or rent, is an important consideration when buying in new neighborhoods. If there is a glut of available properties in an area, you might want to talk to your Realtor about why so many other investors are selling at once, or why deals are taking so long to close. Absorption rates of 20% or more mean that homes are selling quickly. Emile L'Eplattenier, Real Estate Sales Analyst/Editor, Fit Small Business
Source: fitsmallbusiness
For many investors, real estate is uncharted territory. Unlike stocks and bonds traditionally considered "standard assets" real estate is an "alternative asset,". But just because real estate is an unknown doesn't mean that it should be avoided as an investment opportunity. When approached correctly, real estate can be a lucrative and reliable way to generate substantial income. We offer you the best plans, encourage you to ask for any of our investments.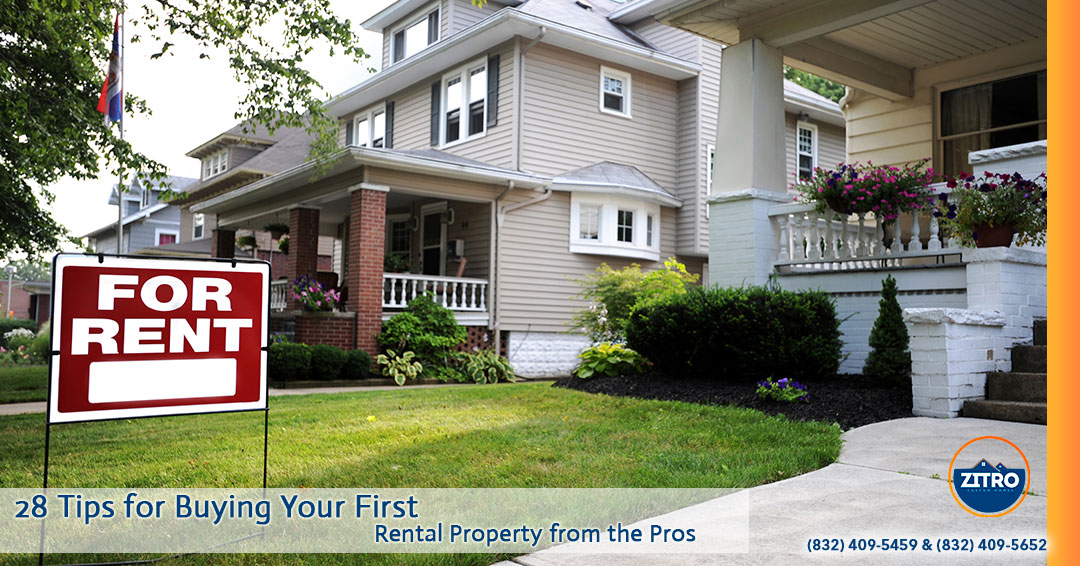 Multi-family Real Estate Investments in Houston.
Zitro Custom Home, Build in your lot, Real Estate Investments in Houston, Commercial Real Estate Investments in Houston, Residential Real Estate Investments in Houston, Multi-family Real Estate Investments in Houston, Industrial Real Estate Investments in Houston, Retail Real Estate Investments in Houston, Mixed-use Real Estate Investments in Houston