6 Important Tips to Know Before Investing in Real Estate
Real Estate Investments in Houston
Getting started in the real estate world is not hard. Many times, however, new investors overlook easy ways to make sure they start successful and stay successful. Below are six ways to help your success in real estate investing.
1. Improve your property based on what is easily changed or is popular.
If you are looking to rent out, think about improvements that can be easily swapped out for something the buyer likes better. Instead of installing expensive countertops and intricate tile designs, opt for simple surfaces and subway tiles. These are easily changed out, making your property more attractive to buyers who want to personalize their property but do not want to spend a lot of time doing it. If you are looking to resell, do your research. Find out what is popular and working in the area you are selling in and cater your improvements to that.
2. Find a trusted expert.
If you are new to the real estate investment world, it is important to have a mentor. This is a person that will help analyze numbers and potential gains or losses. Make sure this person is separate from the deal they are advising you on. These mentors will give you tips and tricks you can use throughout your career.
3. If you are renting out your properties, carefully screen tenants.
There are resources at your disposal that help you get a picture of your possible tenants and how they will treat your property. A credit report will tell you their bill-paying history and give you an idea about whether or not they will pay the rent on time. Running a criminal background check will show you if they abide by the rules and laws and running an eviction history will notify you of any previous court records of evictions.
4. Establish and stick with a budget.
Before investing in a property, know what you are willing to spend upfront and on repairs or improvements. Try hard to stay in this budget. It can be very easy to get emotionally invested and carried away, but sticking with a budget will help your career in the long run.
5. Start small.
For new investors, it is important to start small. In the event a tenant stops paying rent, make sure the mortgage is feasibly covered by your income. Look for properties that are easy to manage and that will have low maintenance and operating costs for your first few investments. This will reduce stress and costs and will allow you to find your feet in this business.
6. Know the market you want to invest in.
Again, do your research. Find out what is a good deal in the market you want to get started in. Do not rely on friends or other investors to tell you. Figure out the market and the best deals yourself. This will make you a much stronger investor down the road.
Source: mwmrealestate
For many investors, real estate is uncharted territory. Unlike stocks and bonds traditionally considered "standard assets" real estate is an "alternative asset,". But just because real estate is an unknown doesn't mean that it should be avoided as an investment opportunity. When approached correctly, real estate can be a lucrative and reliable way to generate substantial income. We offer you the best plans, encourage you to ask for any of our investments.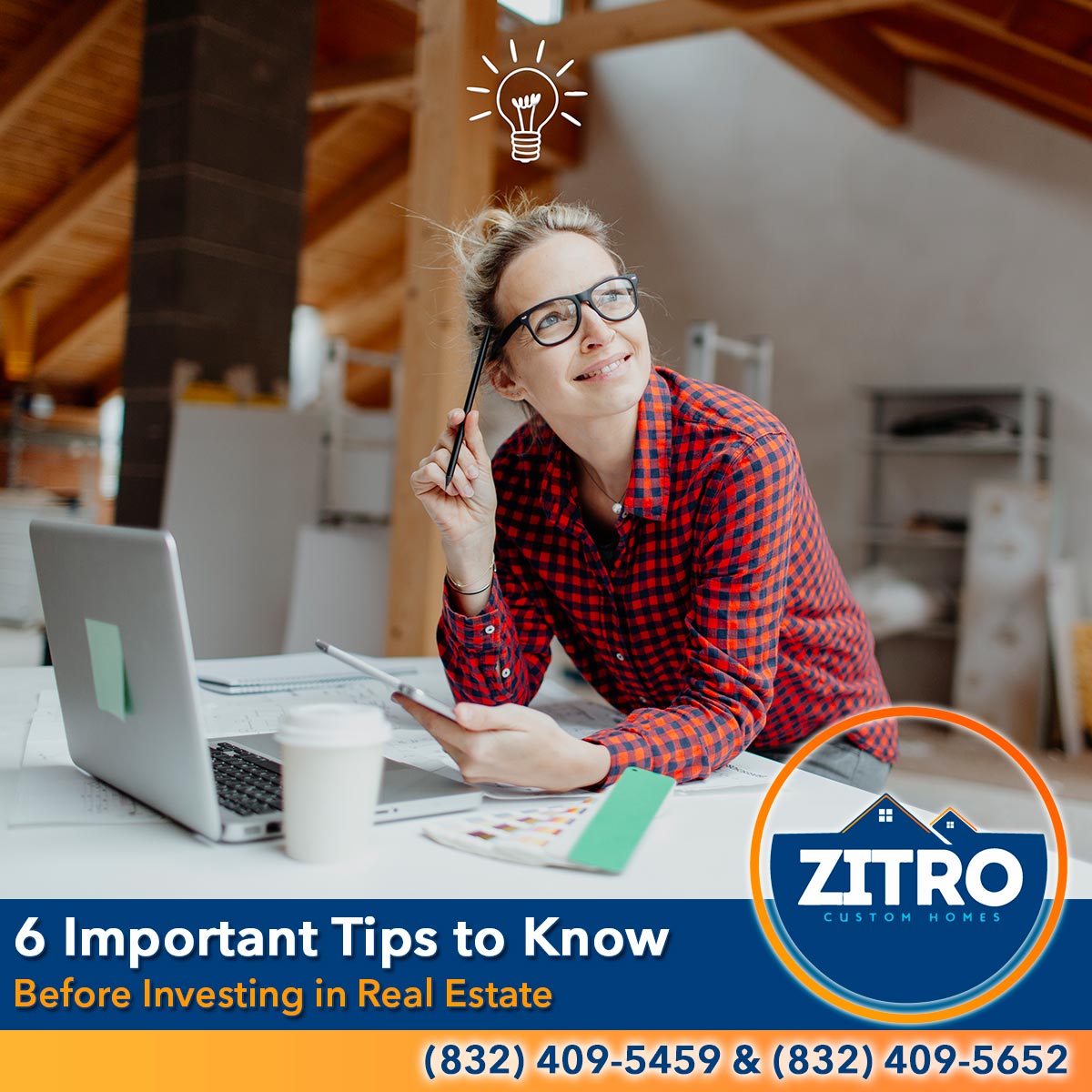 Real Estate Investments in Houston.
Zitro Custom Home, Build in your lot, Real Estate Investments in Houston, Commercial Real Estate Investments in Houston, Residential Real Estate Investments in Houston, Multi-family Real Estate Investments in Houston, Industrial Real Estate Investments in Houston, Retail Real Estate Investments in Houston, Mixed-use Real Estate Investments in Houston