New To Commercial Real Estate? 10 Major Differences From Residential Property
Commercial Real Estate Investments in Houston
1. Commercial Real Estate Is All About Your Network
The agents who work residential and commercial real estate work in very different ways. In commercial, it is very much about who you know, and the bigger network you have, the better. I have bought a few deals that were never listed because I knew the right agents. I am always willing to use a commercial agent, even though I am a residential broker, if they can get me those deals. - Mark Ferguson, InvestFourMore
2. You Need To Understand The Different Segments And Markets In CRE
For residential investors who are looking to move into the CRE arena, they should move slowly and understand the marketplace and players. Commercial real estate is divided into four major groups: industrial, office, retail and hospitality. Within those segments, there are highly specialized investors who are buying and selling regularly. Many of these assets are trading off-market. - Nathan Anderson, NAI Heartland
3. Residential Properties Are Subject To The Whims Of The Owner
Real estate is real estate. Size of transactions maybe one differentiator, but there are $300 million single-family homes and extremely cheap commercial assets, so even that's a wash. The real difference is the use case. In residential assets, the whims of a single owner can impact sales, rents and the pricing of an asset dramatically. Commercial use properties are, for the most part, just a utility. - Ridaa Murad, BREAKFORM | RE
4. CRE Requires Diligent Documentation And Income Data
If you're flipping a house, the buyer doesn't care about the growth or reliability of your property's income stream. For commercial real estate investments, you'll need to show exceptional returns for potential buyers when you decide to sell. Diligent record-keeping of income, expenses and performance is crucial in a commercial investment. - Marc Rutzen, Enodo Inc
5. CRE Yields Higher Income, But Residential Properties Are Easier To Finance
Commercial properties typically have longer lease agreements and higher rental income opportunities. However, residential real estate tends to be less complicated. Financing for residential properties is much easier, while commercial properties tend to be more expensive and require more capital upfront. - Beatrice de Jong, Open Listings (YC W15)
6. It's Easier To Get Rid Of Non-Paying Commercial Tenants
The big difference with commercial versus residential is the ability to get rid of your non-paying tenants. With residential tenancy you deal with a lot of tenant rights. Unfortunately, some people abuse the system and end up squatting for lengthy amounts of time on the landlord's dime. In commercial leasing, if they don't pay they are out, so you can recover your missed rent right away. - Chris Ryan, BEYOND Properties Group
7. Commercial Real Estate Is A Team Sport
Residential: See five houses Saturday, make three offers, accepted contract Monday. Commercial: Trusted team of brokers, lenders and underwriters work together. Brokers find deals and underwriters evaluate which properties to make offers on. They may underwrite 100 properties before finding one to submit offer on. The seller evaluates offers and picks the winning firm, and price is only one factor. - Holly Williams, MQ Ventures, LLC
8. The Rent Structure And Tenant Responsibilities Are Different In CRE
Most commercial investments are based on annual returns and rents calculated annually. So if marketed at $10 per square foot, that is the annual rent, where residential is mainly marketed by monthly rent, so you'll have to shift to annual calculations. Also, most commercial rents are considered net leases, meaning the tenant pays all expenses and maintenance for property. The rent is 100% net to the owner. - Coni Dean, Venture Realty & Investments
9. Commercial And Residential Properties Are Valued Differently
In general, the biggest difference between commercial and residential real estate investing is the way the property types are valued. Residential properties are nearly always valued based on comparing to similar residential properties, while commercial real estate is valued on the income from an investment perspective, which requires an understanding of different industry standards and financials. - Justin A Core, Core Group Real Estate, LLC.
10. Residential Properties Are An Emotional Acquisition
Comparing commercial and residential real estate is like comparing apples and oranges. Investing in commercial is a numbers game based on ROI, while residential is based on how a property "feels" and is nowhere near as cut-and-dried. Residential purchases are typically a long-term personal and emotional investment based on the fact that a house feels right — ROI is irrelevant. - Ashkan Zandieh, RE:Tech
Source: forbes
For many investors, real estate is uncharted territory. Unlike stocks and bonds traditionally considered "standard assets" real estate is an "alternative asset,". But just because real estate is an unknown doesn't mean that it should be avoided as an investment opportunity. When approached correctly, real estate can be a lucrative and reliable way to generate substantial income. We offer you the best plans, encourage you to ask for any of our investments.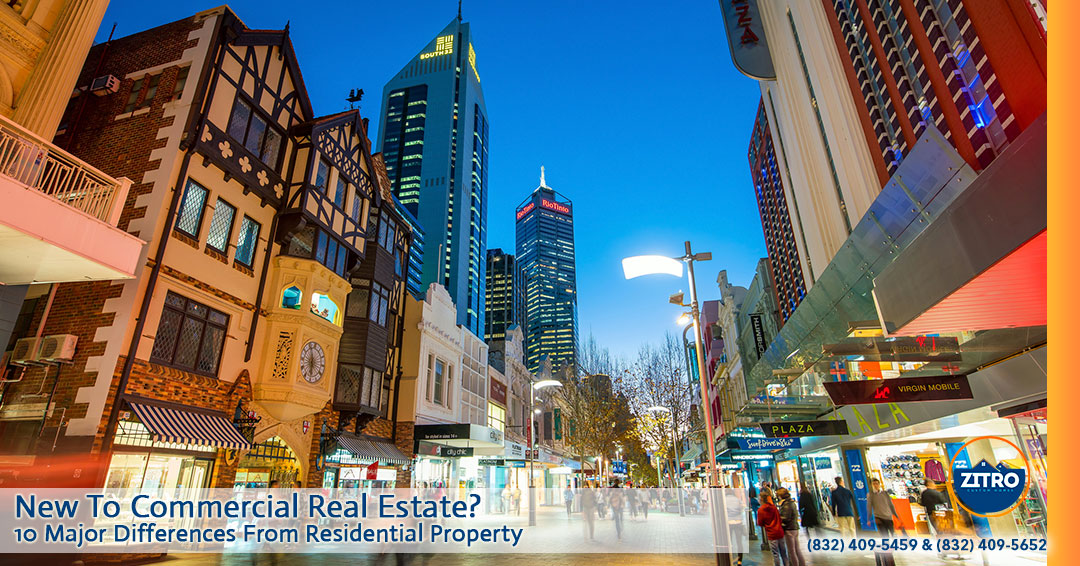 Commercial Real Estate Investments in Houston.
Zitro Custom Home, Build in your lot, Real Estate Investments in Houston, Commercial Real Estate Investments in Houston, Residential Real Estate Investments in Houston, Multi-family Real Estate Investments in Houston, Industrial Real Estate Investments in Houston, Retail Real Estate Investments in Houston, Mixed-use Real Estate Investments in Houston