The Best Real Estate Investing Tips for Beginners
Multi-family Real Estate Investments in Houston
Every investment is unique in the sense that each has its own set of risk and reward. In the case of real estate investing, there are a few starter options suitable for beginners. Read on to know simple investment tips perfect for neophyte investors:
Tip #1: Expertise is Optional, But Research is a MUST
If you were investing in the stock market, you would have to have sufficient knowledge about things like trading stocks, options, and algorithms. As a real estate investor, you do not need to have such technical knowledge. But, don't use that as an excuse to forego doing your own research. You may not need to know the science behind the market, but you do need to know what forces cause it to move.
You also need to look deeper into properties as well, such as getting familiar with the location's neighborhood and their backgrounds. This information could be useful for you to negotiate good deals.
Tip #2: Spell Out Your Financial Goals
Before you let go of your cash to buy your first property or even just to write down your step-by-step plan, be certain of what you expect from your venture.
Ask yourself: what are my financial goals?
People would be quick to point out the "time vs. money" concept in reaching your goals. They say that the more you have of one, the less you need the other. This only cautions you not to shy away from spending the time to understand your goals and align each investment toward achieving them. If you are not sure how to define your financial goals, seek help from a financial advisor.
Tip #3: Keep an Eye Out For Wholesale Properties
Investing in real estate and investing in the stock market has at least one thing in common: you're always looking for the best deal. Obviously, a discerning stock market investor wouldn't buy stocks while their prices are high if he is planning on holding them for a while. Instead, he will likely follow the Warren Buffet principle of getting greedy when everyone else gets fearful. He'll buy stocks that are beaten down and make a killing when they turn around.
The same principle applies to real estate investing. Try not paying the full price when buying properties. Look for so-called wholesale properties whose prices come with insane discounts. Of course, they will absolutely need some work. Do the math and see if your investment in rehab is worth the final selling price.
Tip #4: You Don't Have to Start Big
You don't really have to go out and buy a 50-apartment complex or a newly-built grand warehouse. Also, you will be better off starting small. Get hold of a single condominium or a house and wet your feet learning how to be a landlord. You may discover that you're a natural and go on to make more real estate purchases over the years. On the other hand, if you find out that it's too stressful for you, at least you've only made one single, small investment.
Tip #5: Know How Financing For Real Estate Works
Financing a rental property can sometimes be a headache for a fledgling real estate investor. Here are two things that can help:
Make sure that you have a good credit score before attempting to finance a rental property
Learn about the many options for financing, both traditional and non-traditional
When you talk about the subject of financing in real estate investing, the most common option would have to be conventional bank loans. However, other avenues such as hard money loans, owner financing, and real estate syndication are also available. We suggest that you use them to your advantage – you don't have to miss out on real estate investing opportunities because of lack of financing.
Remember to set a budget for buying an investment property and try your very best to stick to it. Aside from a normal budget, astute real estate investors provide a budget for any unforeseen expenses or emergency repairs that may suddenly crop up.
Tip #6: Consider Direct Ownership vs. Buying Shares
Most real estate investors prefer direct ownership when it comes to investing in property. They buy the building so it becomes fully theirs – after which, you can rent it or sell it profitably. It may sound simple but in reality, doing so requires a lot of work and it's a big responsibility. Generally, most new real estate investors do not have the capability to flip properties on the market. And those that chose to lease or rent will also have to work out their huge legal responsibilities.
Tip #7: There Is a Tax Benefit
As a form of incentive, the government offers material tax benefits to real estate investors. Probably the most significant of them is the depreciation write-off. Any time you buy an investment property that includes a building or structure, you'll have the right to write off the depreciation of that building as a tax deduction. Please consult your tax advisor for the details but basically, you can depreciate a building for over 27 years. For a commercial building, it's even longer at 39 and one-half years.
The IRS will also consider your real estate investment efforts as a business so that means you can claim the "necessary and ordinary" deductions that business owners claim. This will include mortgage interest, insurance, and repairs & maintenance expenses. Again, your tax advisor can give you a better angle on how to go about it.
Tip #8: Do Not Neglect a Thorough Financial Analysis
Stop daydreaming and buckle down to work on your numbers. Look at the different scenarios and see which one makes the most rational financial sense. For example, never buy property at a higher price or less attractive terms than what your practical analysis says. Some sellers will over-estimate the value of their properties through pro forma (estimated) data: don't fall for their tricks. A pro forma computation may be a good starting ground but always know the real numbers before you close. Check the documents – previous years' tax returns, property tax assessments, maintenance records, etc – and get a better idea of the actual income and expenses.
The most important items you should verify are:
The Net income (income minus expenses)
The Cashflow (net income/debt financing payments)
The Return on investment (ROI) (cash flow/investment)
The Cap rate (net income/property price)
The Cash-on-cash return (cash flow/investment)
The Total ROI (total return/investment)
In each item above, 'investment' always refer to how much you've put into the property. 'Debt financing' refers to any loan you may have to get in order to buy the property. "Total return' means the cash flow, equity accrual (the value you gained from your tenants as they pay their rents), value appreciation and taxes.
After you've sufficiently understood these figures and what they represent, you should be able to determine whether or not purchasing the property fits with your financial goals.
Tip #9: Build Your Real Estate Network
When you are already rolling along the real estate industry avenues, give importance to the people you will come across with. The real estate agents (See how to find a good agent) other real estate investors, contractors, bankers, etc. can help you in the future, you never know. Turn the quick interactions with them an opportunity to build a real estate network. Make a good impression, exchange contact details and try to keep in touch with them. A real estate network can be your ace in the hole as you grow your business – many successful investors can attest to this.
Here's a word of caution: pick your network carefully because you don't want to end up working with the wrong set of people. Learn everything you can about the people you encounter in the business. This is important because they might directly affect the success of an income property.
Tip #10: Decide Logically, Not Emotionally
It's easy to get caught up with appearances and think something is perfect for what you need. This is the same with real estate. You may fall in love with a piece of property and decide to purchase it without doing a careful study. Do not commit to anything because of your emotions.
First of all, make sure that you do an analysis of its value. Check the numbers and project how it could perform based on your plans. Making a buying decision because you love the property so much can blind you to paying a higher price. Obviously, it will be very difficult to make a profit out of it later. Stick to your numerical analysis when buying real estate.
Source: infoforinvestors
For many investors, real estate is uncharted territory. Unlike stocks and bonds traditionally considered "standard assets" real estate is an "alternative asset,". But just because real estate is an unknown doesn't mean that it should be avoided as an investment opportunity. When approached correctly, real estate can be a lucrative and reliable way to generate substantial income. We offer you the best plans, encourage you to ask for any of our investments.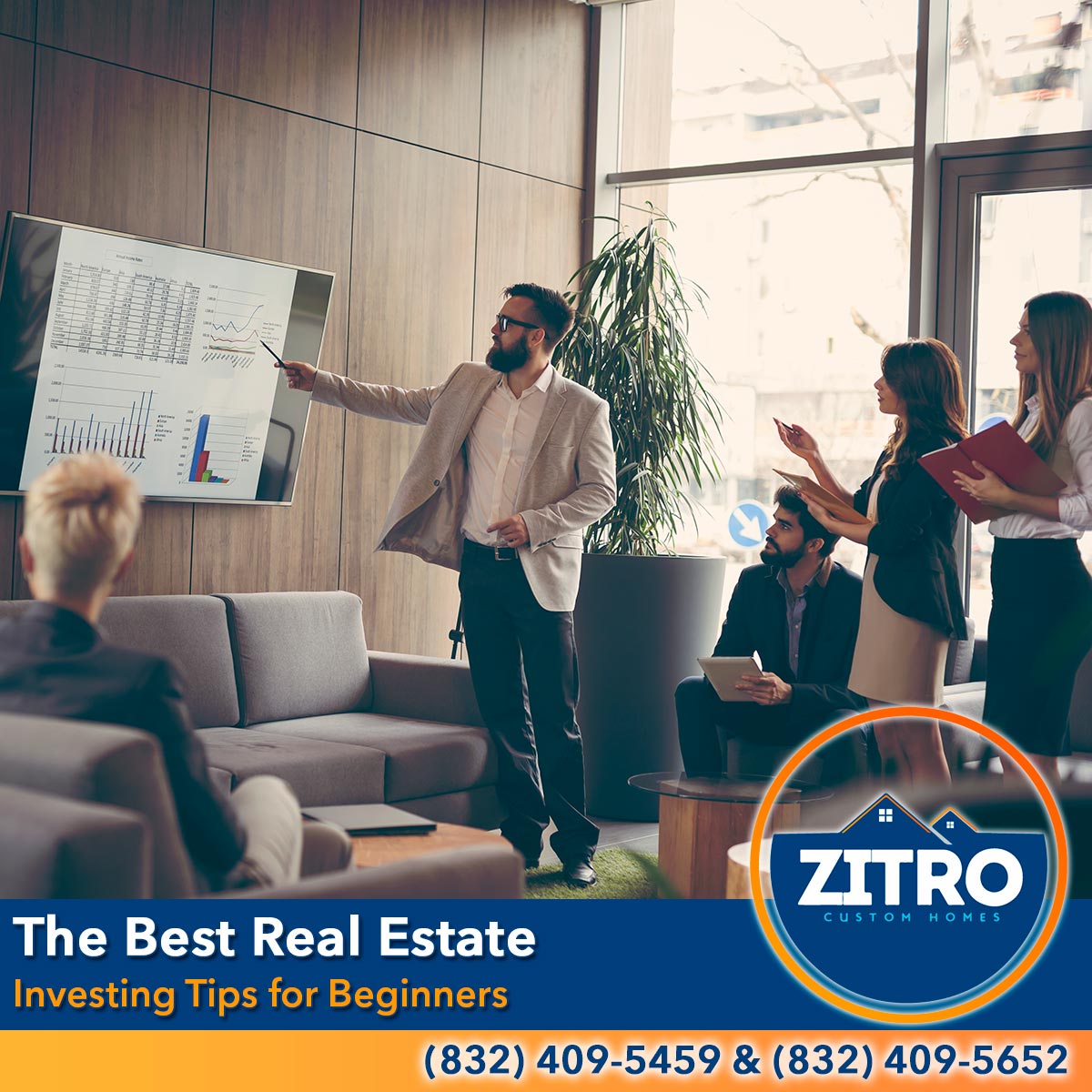 Multi-family Real Estate Investments in Houston.
Zitro Custom Home, Build in your lot, Real Estate Investments in Houston, Commercial Real Estate Investments in Houston, Residential Real Estate Investments in Houston, Multi-family Real Estate Investments in Houston, Industrial Real Estate Investments in Houston, Retail Real Estate Investments in Houston, Mixed-use Real Estate Investments in Houston