The Best Tips for Investment Property Buyers in a Seller's Market
Residential Real Estate Investments in Houston
A seller's market occurs when there are too many investment property buyers and not enough properties for sale – the demand for real estate is high. This causes property prices to increase, the days on the market to decrease, and property sellers have the upper hand. Looking at the current US housing market trends, you'd know that it's a seller's market. Many economists also believe that the US housing market will continue to be a seller's market throughout the rest of 2018 and well into 2019.
Tip #1: Get a Pre-Approval Letter
Before anything else, a real estate investor must prepare his/her budget and finances before making the offer. Showing the property seller that you're ready and have a financing plan will strengthen your offer and help you buy the investment property faster. Sellers often prefer cash deals because they decrease risks and mitigate delays while waiting for the bank to underwrite the mortgage. However, real estate properties are expensive in a seller's market (as we said, the high demand pushes prices up) and not all investment property buyers have cash available.
In this case, you'd need to get a pre-approval letter from your lender to increase your chances of beating other buyers eyeing the same rental property. This letter shows the property seller that you've been vetted financially and can complete the finances and make mortgage payments on time. Not only that, but a pre-approval letter gives investment property buyers an idea of how much they can afford so they can narrow down their search to rental properties for sale within that price range. Moreover, begin pre-approved will increase your professionalism as a real estate investor and gives property sellers a sense of relief that they can get their money on time and, therefore, help you get the best deal in a real estate seller's market.
Tip #2: Know Where to Buy
You know what they say in real estate – location, location, location! In order to successfully buy a rental property in a seller's market, you need to know exactly where to search and how to find rental properties for sale. As you already know, it's easy for sellers to list their properties at a higher price in hot locations where almost all property investors are aiming to secure a real estate investment. If you really want to find a good deal at a reasonable price, one tip is to stay away from these markets.
Instead, investment property buyers in a seller's market should search in locations that are less common to others. For example, look at rental properties in up and coming cities and neighborhoods. Such places typically have lower competition among property investors but they have great potential for return on investment and appreciation. If you find a seller there, you'll have the chance to be the main player and your offer will get attention.
Tip #3: Work with a Good Buyer's Agent
Though you don't need a real estate agent to buy an investment property, hiring one will definitely give you an advantage in a seller's market. The important thing is to find an experienced buyer's agent who has a proven record of winning offers. These individuals might know about listings as soon as they hit the market, or even know properties going on sale before they're listed. In addition, they might have some insight into what property sellers need to close deals.
In a seller's market, things are moving quickly and investment property buyers need to be able to make quick, yet efficient decisions. A knowledgeable real estate agent will keep you in the know all the time, tell you what you need to do to compete with other property investors, and help you write a strong offer. Agents also have better negotiation skills and could even convince property sellers to accept a lower price. Therefore, due to their experience in the field, investment property buyers will have better chances of getting the best deals and securing the best real estate investments.
Tip #4: Make Your Offer Attractive
There are a number of techniques that could help your offer stand out among the competition. For one thing, investment property buyers could make their offer more attractive by putting down a larger deposit (of 3% or 5%). Doing so communicates that you're really serious about buying the rental property. Another technique is to agree to the seller's terms and reduce the hassle for them. For example, if there's something that they want to leave behind, let them – it'll help move the transaction forward and you can remove it later yourself once the property is yours.
Furthermore, being flexible at closing is also recommended for investment property buyers in a seller's market. When you accommodate the seller's schedule, it demonstrates that you're willing to make the transaction easier for them. Thus, if the rental property is vacant and the seller wants to complete the sale as soon as possible, it's best to offer a shorter time span. On the other hand, if the rental property is currently occupied and the seller needs time to find a new home, savvy property investors will offer an extended closing period.
Tip #5: Prepare for Bidding Wars
The main reason why buying a rental property in a seller's market becomes harder is that a large number of competition and bidding wars arise between investment property buyers. If other property investors are eyeing the same property, then offering a low sale price won't be in your favor. You can even lose any chance you had if your competitors made higher offers.
As we said, property sellers have the upper hand and, because they're looking to make profits, they'll for sure accept the highest bid. Investment property buyers in a seller's market should always keep that in mind and be prepared to indulge in bidding wars. If you're pre-approved, work with an agent, and place an attractive offer, you'll be in a solid position to win and secure your real estate investment.
Source: mashvisor
For many investors, real estate is uncharted territory. Unlike stocks and bonds traditionally considered "standard assets" real estate is an "alternative asset,". But just because real estate is an unknown doesn't mean that it should be avoided as an investment opportunity. When approached correctly, real estate can be a lucrative and reliable way to generate substantial income. We offer you the best plans, encourage you to ask for any of our investments.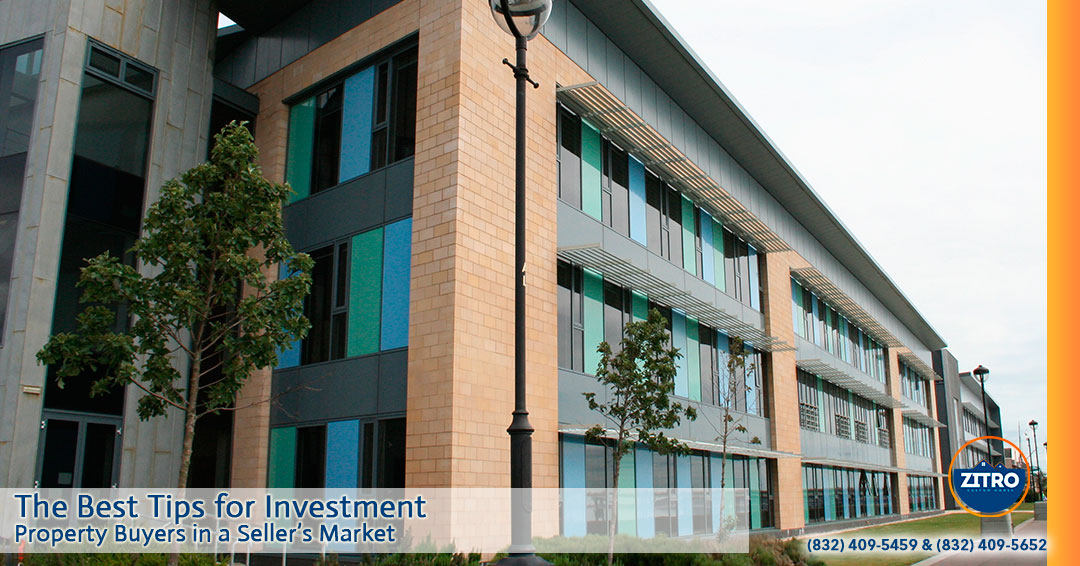 Residential Real Estate Investments in Houston.
Zitro Custom Home, Build in your lot, Real Estate Investments in Houston, Commercial Real Estate Investments in Houston, Residential Real Estate Investments in Houston, Multi-family Real Estate Investments in Houston, Industrial Real Estate Investments in Houston, Retail Real Estate Investments in Houston, Mixed-use Real Estate Investments in Houston